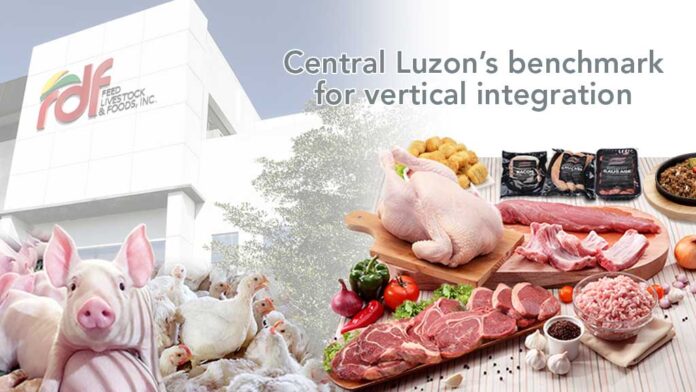 How RDF Founder and CEO Dr. Robert Lo Trailblazes the Quality Trail
How RDF Founder and CEO Dr. Robert Lo Trailblazes the Quality Trail  | Several well-known companies have built up a reputation for excellence. When it comes to RDF Feed, Livestock & Foods Inc. founder and CEO Dr. Robert Lo's personal conviction to quality and his determination to lead the way for customers and employees, it all begins with a personal commitment. His company's "Authority when it comes to quality" objective has been realized through investing in quality business procedures and people.
Dr. Lo, a veterinarian, founded RDF in 1988 as a contract poultry breeder. His first meat shop, Fresh Options Meatshop, was established in a tiny supermarket in Angeles City in 2005. After a long and arduous journey,
When Dr. Lo took control of RDF, he created a forward vertically integrated agrifood firm, which includes all of the infrastructure necessary to produce food, including a slaughterhouse and meat cutting and processing operations, as well as restaurants. This is what Dr. Lo has to say about quality control: "We control every area of our operations." With over three decades of experience, we have never wavered from our commitment to producing fresh meats and value-added food items that meet or exceed the highest international standards for food safety.
Quality starts at the feed mill
RDF noticed the need for greater corn storage as the company expanded its farm construction. Swine and broiler diets include up to 60 percent corn as a source of protein. It provides vital elements such as iron, potassium, zinc, and Vitamin A, as well as a source of energy.
The RDF's corn silos were put through their paces in February and are now operational.
Each silo has a 4,000-ton capacity, with a loading capability of up to 100 tons per hour and an unloading capacity of 40 tons per hour, making each silo ideal for bulk storage. The following are some of the new corn silos' most noteworthy characteristics and advantages:
Silos, as opposed to a flat warehouse, provide for better storage, preserving the quality of the maize (i.e., they keep the grains safe over a period of time). Sensors for moisture, humidity, temperature, and corn level are also installed in the silos. The most prevalent mycotoxins, which include aflatoxins, can be detected with a carbon dioxide sensor.
The financial impact of fluctuating corn prices before and after harvest is lessened thanks to increased buffer storage capacity.
As a result of the silos' software, inventory management has become more easier.
Farms are GAHP- certified.
As the name suggests, GAHP stands for Good Animal Husbandry Practice. Every two years, the Bureau of Animal Industry requires the company to apply for GAHP accreditation. RDF farms that are GAHP-certified have met the strictest requirements for animal welfare and food safety throughout the whole supply chain. To ensure that workers' health and safety are properly protected, the GAHP certification also verifies that its production methods do not pose any health concerns to its neighbors or harm the environment.
Slaughterhouse and meat-cutting plant undergo FSSC
Food Safety System Certification (FSSC) is a certification program for food safety systems. RDF is demonstrating its dedication to ensuring the safety of its customers and the general public's food supply by pursuing this accreditation. They're hopeful that the certification will be available in the near future.
Fresh, safe and clean meats at retail shops
Meat products must be transported and stored in accordance with strict rules to ensure that they are safe and suitable for human consumption. For the purpose of preventing the growth of bacteria, RDF uses a cold chain system to transfer all of its fresh and processed meat products to its meat shops, restaurants, and other institutional accounts. To ensure that only the freshest meats are served to Fresh Options consumers, a First-in, First-out system is used in all retail stores.
Each type of meat should be kept in a separate upright chiller to prevent cross-contamination. Food safety, current Good Manufacturing Practice, and personal hygiene are taught to quality assurance and retail workers in order to safeguard customers from probable health hazards, caused by the wrong handling of meat.
Employees are the lifeblood of the company.
The CEO feels that RDF's greatest asset is its workforce and that their participation in the company's comprehensive quality program is essential. In order to empower his personnel, Dr. Lo has been extremely supportive of their professional growth and development. He also sends his managers to universities to enhance their education and requires them to attend training and seminars to further their education and sharpen their talents, in order to build more quality champions in his team. According to the Governing Board of the Institutional Register of Certified Auditors (IRCA), two of Dr. Lo's business unit heads have passed and completed the ISO 9001:2015 Auditor/Lead Auditor Training Course (Quality Management Systems) (IRCA). Manager of Strategic and Operations Planning, Dr. Joy Michelle A. Literato, and Manager of Technical Services and Quality Assurance, Dr. Camille Francesca T. Hernandez.
Additionally, Dr. Lo employs outside consultants to serve as mentors for his staff and to help foster a company-wide emphasis on quality.
Dr. Lo also reveals that RDF has drafted a business Pledge of Quality to ensure that all employees will live and breathe the company's objective and vision. Employees are encouraged to work hard, manufacture high-quality products that satisfy clients, and work together to improve the quality of life by wearing the company's t-shirt.
Tags In